Timber Structures
Choosing a timber pergola, verandah or carport for your outdoor space is a perfect choice. If you wish to create an earthy, natural look, timber is a suitable material. Timber pergolas are both durable and versatile in design. It is an environmentally friendly option is functional and aesthetically pleasing. It can be blended with the surrounding environment of your home or garden.
Our Pergolas of Distinction team will design a timber pergola, verandah or carport that:
Makes optimal use of your available space
Keep in line with the design of your home
Provide you the best of both worlds; summer shade and winter sun
Features
Offer a wide variety of roofing materials to suit each design we offer, using only the best available quality.
All Colorbond® goods are 100% Bluscope Steel, obtained from Revolution Roofing
All polycarbonate roofing is supplied by Palram Australia
Insulated panel roofing supplied by Bondor®
We are the only timber pergola builder to be a True Oak authorised installer
We use sustainably sourced timber which includes our LOSP treated pine
Types Available
Gable
Flat
Dutch gable
Scotch gable
Curved
Gazebo
Split gables
Custom designs
Attached to house
Freestanding
Roofing
Corrugated colorbond (true oak) single sided – full colour range
Corrugated colorbond (true oak) double sided – limited colour range
Suntuf polycarbonate roofing
Sunlight polycarbonate roofing
Sunpal polycarbonate roofing
Insulated panel
Gibus retractable roof
Louvretec louvre roof
Shadecloth
Open roof structures
Open roof with stainless steel wire
Specialise In
Residential
School shade
Commercial
Schools and childcare
Businesses and restaurants / hospitality
Renovations
We Offer
A no obligation free measure and quote
Wide range of screening options; enclosed pergola with rendered blue board walls, lattice or hardwood screens
Professional licensed installers
South Australia's strongest structural warranty of 25 years

Licensed True Oak Contractor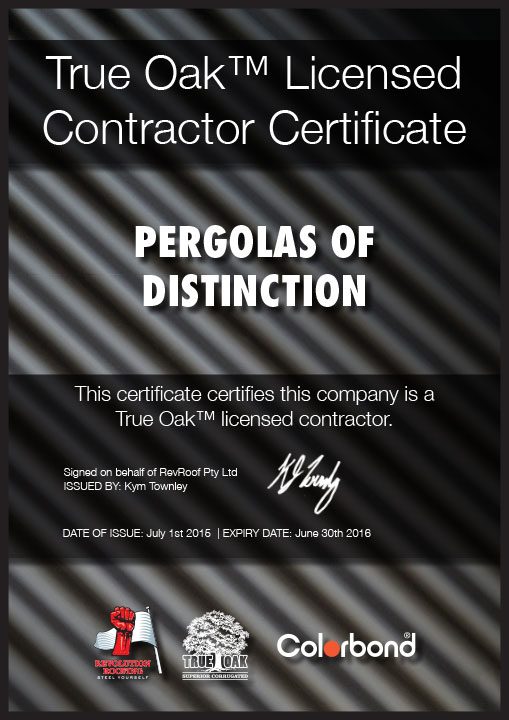 Product Gallery
Click on a thumbnail below to view a larger image.