Customised TIMBER
Pergolas of Distinction is Adelaide's custom timber and home improvement specialist having been in operation since 1994.
A customised timber pergola, verandah or carport for your outdoor space is a perfect choice, in creating an earthy, natural look, timber is the perfect material. Timber pergolas are both durable and versatile in design, and aesthetically pleasing. Timber will blend with the surrounding environment of your home or garden.
Our Pergolas of Distinction team will design a timber pergola, verandah or carport that:
Makes optimal use of your available space
Keep in line with the design of your home
Provide you the best of both worlds – summer shade and winter sun
Creates a lifestyle entertainment feature
Features
We design, supply and install as a specialist with custom timber designs.
Guarantee of workmanship, with only highly qualified licensed builders.
We are the only timber pergola builder to be a True Oak authorised installer.
We use sustainably sourced timber which includes our LOSP treated pine.
Offer a wide variety of roofing materials to suit each design we offer, using only the best available quality.
All polycarbonate roofing is supplied by Palram Australia and Polypiu
Insulated panel roofing supplied by Bondor® and Versiclad
Types Available
Pergolas of Distinction designs pergolas specific to the shapes, sizes and roof structure according to the needs of the client and building structure.
The advantage of timber pergolas is the flexibility to design and build a structure to match existing roof lines of the existing building structure. The custom roof designs include:
Gable
Flat
Dutch gable
Scotch gable
Curved
Gazebo
Split gables
Custom designs
Attached to house
Freestanding
Roofing
Suntuf polycarbonate roofing
Sunlight polycarbonate roofing
Sunpal polycarbonate roofing
Insulated panel
Lined ceilings
Gibus retractable roof
Louvretec louvre roof
Markilux Conservatory Awning
Shadecloth
Open roof structures
Open roof with stainless steel wire
Specialise In
Residential
Commercial
Education and childcare
Businesses, restaurants and hospitality
Renovations
We Offer
A no obligation free measure and quote
Wide range of screening options; enclosed pergola with rendered blue board walls, lattice or hardwood screens
Rendered Columns & Bulkheads
Down lighting
Fans
Professional licensed installers
South Australia's strongest structural warranty of 25 years
Gable pergola
Gable roof pergolas are the most popular design providing a light and cool environment as they have a higher roof, with the option of gable end enclosures. The gable designs allow air flow, with fans and lighting to maximising the comfort.
The gable pergola the rafters are cut at angles and meet in the centre of the structure at a ridge, and can mirror the roofline of your home and blend into its architectural style. The hip and bay ends can be further customized in design.
Gable pergolas can be lined with timber or materials that emulate ceilings, they can also have decorative additions to them such as false gables and dutch gables which allow for more space under the roof and give a different appearance to the roof line outside of the structure.
Flat pergola
Flat roof pergolas are highly versatile structures that can provide a lot of flexibility. They can be lined with a timber ceiling and feature inbuilt lighting and fans, or they can have different levels or pitches to provide exactly the style and conditions you require.
The advantages of a flat roof
They are significantly cheaper than roofs with multiple slopes.
Lower costs and faster to install.
Modern look
Lined ceiling option
Attached to existing building or stand alone
Skillon Pergola
Skillion roof lines create a sleek design and intensify the architectural appeal of a building or pergola. Skillion roofs, also known as mono-pitch or shed-style roofs – offer a flat roof with a twist. The The roof includes a visible slope, which means the roof is higher at one point to effect an efficient, practical roof with clean lines and a modern, minimalist look.
The advantages of a skillion roof
They are significantly cheaper than roofs with multiple slopes.
Lower costs and faster to install.
Provide good drainage and circumvent the drainage problems that plague standard flat roofs.
Modern look with sleek architectural lines
Lined ceiling option
Dutch Gable
Dutch gable roof improves the aesthetics of the buildings because of the dutch gable design, and is recommended when designing and matching into existing house roof structure.
The Dutch gable roof draws the advantage the gable roof and hip roof to improve the shedding of water, whilst the overhanging eaves provide additional shade from the sun and rain.
The gable section of the roof is constructed on top of the hip roof, creating more space in the loft. The roofing style was featured in the Renaissance Architecture and became popular in Australia because of the combination of hipped and gable roof.
The high ceilings with the Dutch gable provide more interiors space which increases the amount of lighting and airflow.
Scotch Valley Pergola
The scotch gable includes a scotch valley gable, hip and valley, broken hip and valley, broken valley or a combination of thereof. A level of skill and compentancy is required to construct particularly in the intersecting roof lines.
The hip & valley roof has an additional ridge, which joins the main roof ridge at the same height, which creates a single valley for an 'L' shaped roof. It may also join the roof surface at the same height or at a lower level on a side or end, without connection to a hip, creating two valleys for a 'T' shaped roof.
Pavilion Pergola
Our pavilion pergola is a modern sleek and sexy design incorporating a skillion roof design with insulated panel and lined ceiling. The pavilions design can incorporate feature columns and large beams (hardwood or rendered) with down lighting and fans.
Pavilion roof lines are all equal on all sides. Pavilion are a open building which is separate independent structure or can be attached to an existing building.
The pavilion design is becoming more popular with the inclusion of an enclosed feature ceiling and lighting as a outdoor entertainment area separate from the main building.
Roofing
Pergolas can also use different types of roofing to achieve different ends. Primarily, pergolas are covered with either steel roofing or polycarbonate roofing which either mirror the style of your home or allow good light transmission into the pergola. You also have the option of tiling a pergola or adding a ceiling out of many different materials.
These finishes allow you to add things such as fans, heaters and lighting to make the most of your pergola in all conditions.
Lined Ceiling
Covered outdoor pergolas are one of those often unloved entertaining spaces, but by lining one side and the ceiling space with timber slats, you can create a stylish new look with extra privacy, and insulation.
Attachment – Existing House
Both flat and gable roof pergolas can be attached on one or multiple sides to your home. Attachment methods used are determined by the pergola type as well as the characteristics of your home. Some pergolas can be bolted to the wall, however in most cases we recommend using brackets to connect the pergola to the roof of your home and reduce the load that the pergola places on your home.

Licensed True Oak Contractor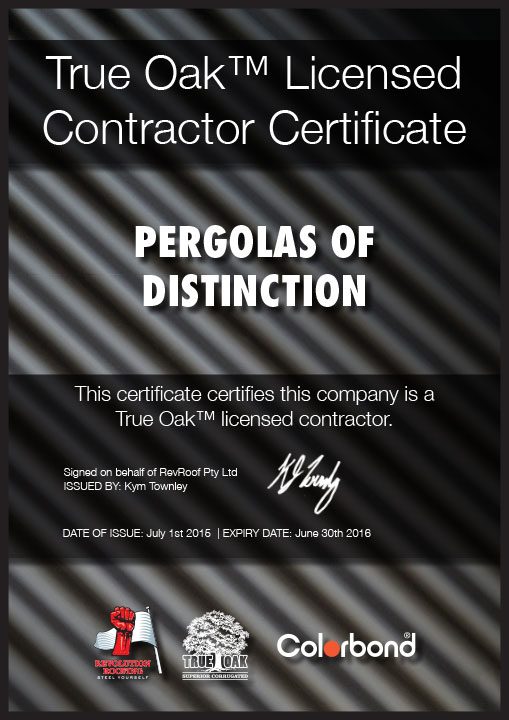 Product Gallery
Click on a thumbnail below to view a larger image.